USAID, Ministry of Agriculture and International Agriculture University Commemorate Earth Day 2023
April 25, 2023, Tashkent, Uzbekistan – Today the United States Agency for International Development (USAID) jointly with the Ministry of Agriculture and the International Agriculture University (IAU) hosted an event to commemorate Earth Day 2023. The U.S. Ambassador to Uzbekistan Jonathan Henick and USAID Mission Director Mikaela Meredith visited the campus of IAU to award the winners of the Students' Contest of Environmental Ideas and plant trees together with the Deputy Minister of Agriculture of Uzbekistan Umid Mamadaminov and Rector of International Agriculture University Munira Aminova.
The Students' Contest of Environmental Ideas under the theme "Think Global, Act Local", was announced in March 2023 by the USAID Agribusiness Development activity in partnership with the IAU. The themes of the competition were climate and environmental literacy, ending plastic, sustainable fashion, global cleanup, and – of course – planting trees. In fact, 12 three-person teams, with support from IAU lecturers, prepared various projects. The three finalist teams received prizes and gifts, and all participants received commemorative certificates. USAID's Agribusiness Development Activity is working on improving linkages between academia and agribusinesses, strengthening the curriculum, and promoting internships and employment opportunities for students at agribusiness universities.

"In the context of climate adaptation, agriculture is one of the most resource-intensive sectors. It is crucial to empower well-trained and innovative young professionals to ensure that they implement best practices to protect the environment, so that there is sustainable access to food for future generations. I am very excited to visit the International Agriculture University today – a new and innovative academic institution, providing a variety of educational programs in agriculture," said U.S. Ambassador J. Henick.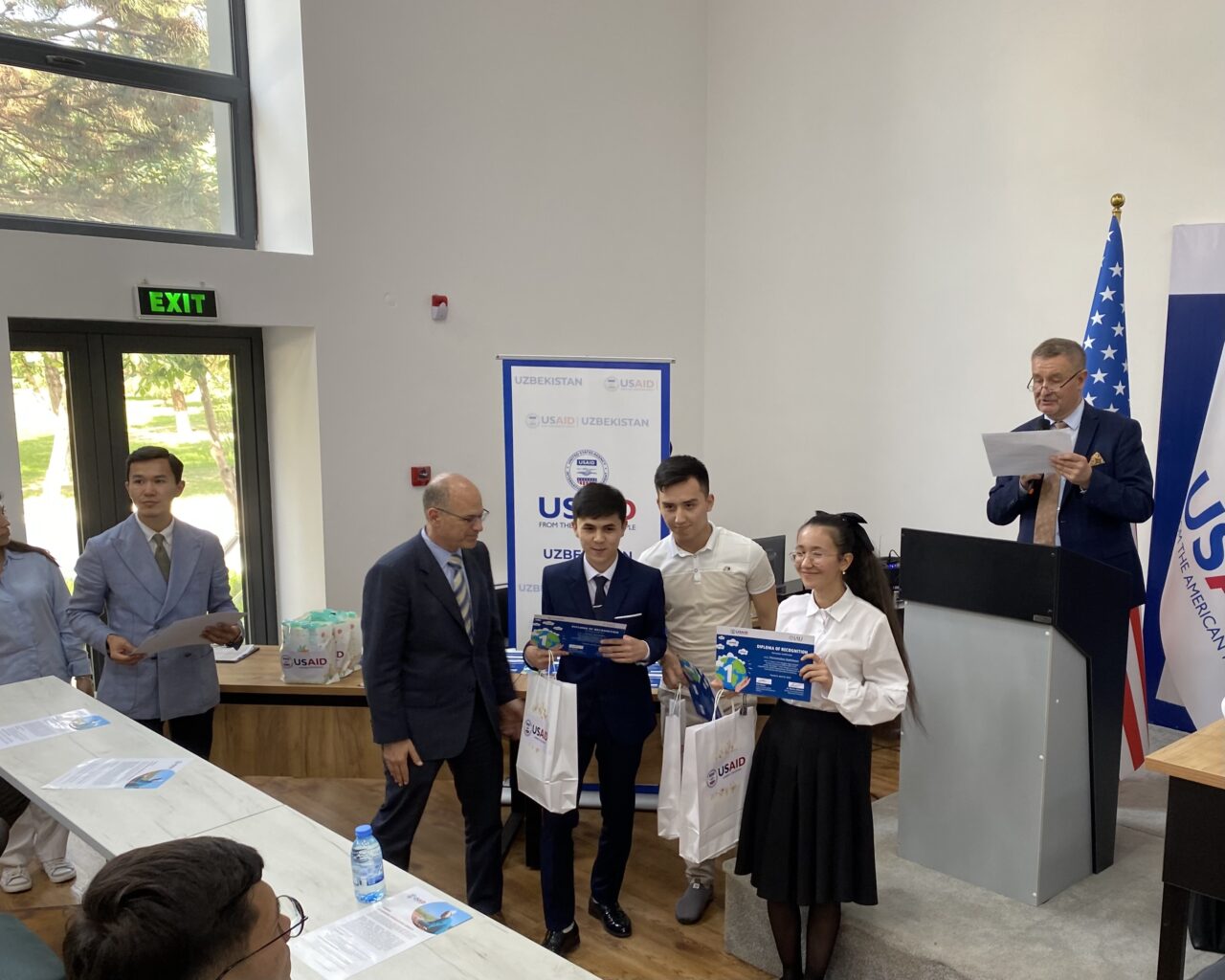 Dr. Munira Aminova, Acting Rector of IAU commented at the event: "On the occasion of such competitions, as well as in the daily activities of our university, which has the word "International" in its name, we try to stimulate young people to think critically and use good examples from around the world. Only in this way will young people find a way to become future leaders in their professions. And modern agriculture is the future of Uzbekistan, creating favorable conditions for professional success."
USAID Mission Director Mikaela Meredith added, "Climate adaptation is at the core of USAID's global work. Worldwide we work with governments to help them implement national climate strategies with local communities to strengthen their resilience and with academia to improve knowledge and support innovation. We have seen how bright and innovative students of IAU are. Many of the ideas presented by students are applicable not only in Uzbekistan, but throughout the world."
Organizing Earth Day in Uzbekistan, as in other countries, is already becoming a tradition. The campuses of agricultural universities in Tashkent have been enriched with new trees every year. What's more, as a result of last year's contest, select trees were marked with QR signs, which allow you to learn more about their characteristics and origin. This is one of the ways to encourage society to take an interest in the environment and contemporary challenges.